10/06/2022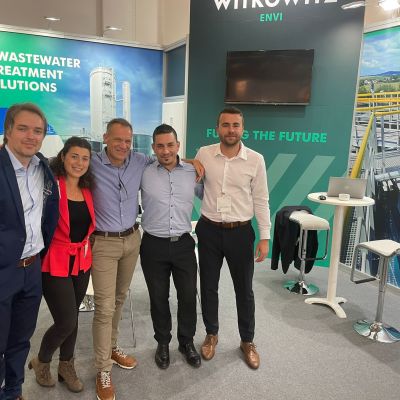 The leading trade fair in the field of environmental technologies is over. IFAT Munich took place from May 30th to June 3rd. It was attended by world players in the field of wastewater treatment, and WITKOWITZ ENVI just had to be there.
Our three sales representatives presented technologies for aerobic and anaerobic treatment, which help cities and companies return wastewater to a safe and clean condition. Petr Kutěj, Jiří Poruba, and Radim Koláček held business negotiations with a total of 70 partners and new clients from all over the world, through our presentation stand, seminars, and discussions. 
"We are glad that clients appreciate our daily efforts to ecologically improve the world, and that they return to us repeatedly with requests for the design and implementation of technical specific solutions according to their input information and subsequent expectations. At the same time, they are joined by new clients who have learned about us through our successful references, especially in the field of water management and agriculture," says Petr Kutěj, Sales Director for one-off tanks.
A partner you can rely on in every situation
Thanks to IFAT Munich, we have established that our modern aerobic and anaerobic technologies play a key role in wastewater treatment.
Through the trade fair, we have given our partners and new customers a clear signal that we always bring tailor-made solutions, and that they can always rely on us. Our references around the world are proof of that. Our team of experts across departments plays a key role here, constantly working on the innovation of our technologies.
"At the same time, we discussed hot topics concerning water, such as digitization, efficient sludge management with a focus on recycling valuable substances contained in wastewater, progress in measurement and regulation, and highly efficient combined heat and power systems for biogas utilization to continuously improve the energy balance of wastewater treatment," concludes Petr Kutěj.
We are fully aware that water is a topic that should be of interest to each and every one of us, and we are glad that our company has long been involved in ensuring that water is treated efficiently and properly.